Support
Airzone Cloud application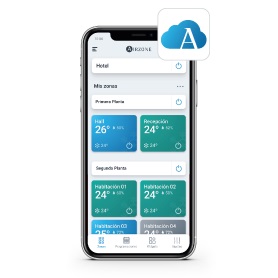 The new Airzone Cloud App allows you to control your air conditioning system with Airzone from your smart devices. Now you can also control your Aidoo devices from the same application. Limit the temperature and reduce the cost of your air conditioning or heating.
Functionalities:
Control several systems both in residential and commercial buildings.

Control of air conditioning and heating by zones.

Visualization of room temperature and humidity.

Customization of each controlled site (location, name, color).

Weekly or calendar time schedules.

Creation of customized scenes with combined actions from different zones for your routines.

Energy consumption monitoring of your system.

User management with different permissions.

Multi-user and multi-session.

Access to zone settings.

Shutdown timer in each zone.

Voice control via Alexa or Google Assistant.