Support
Pack Airzone Starter Flexa 4.0 VALC for underfloor heating - Bluezero white/black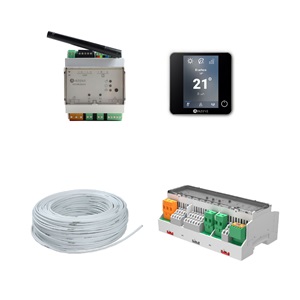 Pack AirzoneFlexa 4.0 VALC for controlling underfloor heating and cooling installations.
Includes:
1x Airzone Flexa 4.0 main control board on DIN rail AZCE8CB1DIN.
1x Control module for VALC wired valves AZCE8CM1VALC.
1x Airzone Blueface thermostat wired AZCE6BLUEZEROCx.
Airzone cable Bus.
Functionalities:
Control and management of the thermostats, up to 8 zones.
Communication with units of integral control of the installation.
Communications with other external control systems through integration bus.
Management of up to 8 zones and 10 wired Airzone valve actuators.
Two relay outputs configurable as high/low temperature circuit demand or manual operation.
Analogue input for the measurement of the water supply temperature by means of a temperature probe.
Forced operation buttons.