Support
Pack thermostat Airzone Blueface IBP6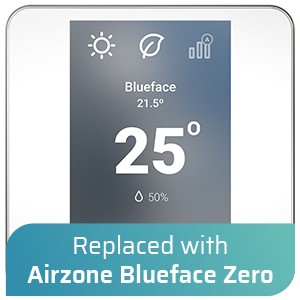 Colour graphic interface with capacitive screen for controlling zones in Airzone systems. Powered by main control board. Finished in steel and glass. Available in white or black.
Functionalities:
Available in Spanish, English, French, Italian, German and Portuguese.
Control of temperature, operation mode (Master thermostat) and system speed (Master thermostat and fancoil installations).
Room temperature and relative humidity measurement of the zone
Configuration stages control (air, radiant or combined).
Eco-Adapt saving and Sleep function.
Temperature and mode time schedules.
Remote access to other zones of the system.
Weather forecast and AC unit consumption (optional).