Support
Airzone Aidoo Pro Blueface Zero color thermostat wired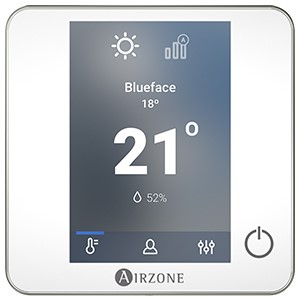 Color graphic interface with capacitive screen for controlling a zone in Airzone systems. Finished in steel and glass. Wired communications. Powered by Aidoo. Available in white or black.
Functionalities:
Available in Spanish, English, French, Italian, German and Portuguese.
Control of temperature, operating mode and system speed.
Room temperature
Sleep function.