Support
Airzone RadianT365 control module for wired valves 110/230V VALC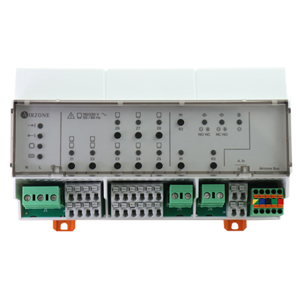 Control module of radiant elements for cooling/heating stages by zone, through the management of wired valve actuators. Communications via the Airzone connection bus of the main control board. External power supply at 110/230 VAC (50/60 Hz). Mounted using DIN rail.
Functionalities:
Management of up to 8 zones and 20 wired Airzone valve actuators. Maximum number of valves permitted: 2 for each output (20 valves in total).
It has 2 configurable relay outputs for controlling the cooling/heating stages and demand of 12 A at 230 VAC.
It has 1 analogue input for the measurement of the water supply temperature by means of a temperature probe.
Forced operation button.