Support
Airzone think monochrome thermostat wired (RA6)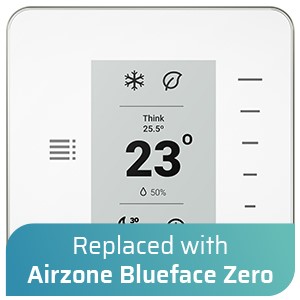 Graphic interface with low-energy e-ink screen and capacitive buttons for controlling zones in Airzone systems. Finished in steel and glass. Wired communications. Powered by main control board. Available in white or black.
Functionalities:
Available in Spanish, English, French, Italian, German and Portuguese.
Control of temperature and operation mode (Master thermostat).
Room temperature and relative humidity reading.
Sleep function.
Remote access to other zones of the system.
Weather forecast (optional).