Support
Airzone wired thermostatic valve actuator 110/230V VALC for radiant elements M30x1.5 mm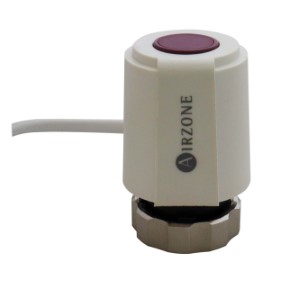 Head to control the radiant stage of the zone by opening and closing its valve. Communications and power supply to 110/230Vac (50/60HZ) through the Airzone control module of wired valves (maximum number of valves permitted: 2 for each output - 20 valves in total -).
Features:

Operation as normally closed.
Visual indication of valve opening/closing by the movement of the central red valve piston.