Support
Pack Airzone VALR for radiators 2 thermostatics valves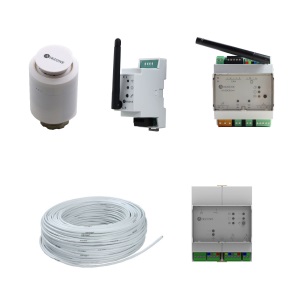 Pack Airzone Flexa 4.0 VALR to control installations with radiators and 2 thermostatic valve actuators.
Includes:
1x Central Flexa 4.0 DIN Rail AZCE8CB1DIN
1x Webserver HUB AZX6WSPHUB
1x VALR control module for wireless valves VALR AZCE8CM1VALR
2x Airzone wireless thermostatic valve actuator VALR for radiators AZX6AC1VALR.
Bus cable
Functionalities:
Control and management of thermostat status, up to 8 zones - 10 wireless valves.
Communication with units of integral control of the installation.
Two relay outputs configurable as high/low-temperature circuit demand or manual operation.
hermostatic valve actuator with LED display to show setpoint temperature, battery status and radio coverage., with Anti-freeze, Anti-calc and child lock functions.
Configuration and control of zone parameters (Room and set-point temp., operating mode, etc.) and system parameters via Airzone Cloud.
Associated with router through the app via Bluetooth.
Allows configuration as Lutron gateway and BACnet IP.